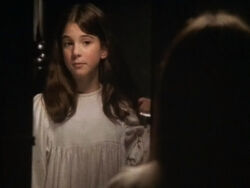 Emily-in-the-glass was an imaginary friend invented by Emily Byrd Starr. She took residency in Emily's reflection when Emily saw her in a mirror, window, or body of water.
Biography
Edit
Emily-in-the-glass was first created when Emily lived at Maywood. Since there were so many mirrors at Maywood, it was easy for Emily to be able to talk to her. However, when Emily's father Douglas died, Emily was forced to move to New Moon, where the only mirrors were too high for her to see herself. Even when she did see a mirror, she considered the Emily-in-the-glass different from the Emily-in-the-glass at Maywood, so Emily eventually grew out of her.
Appearances
Edit
Book appearances
Edit
Ad blocker interference detected!
Wikia is a free-to-use site that makes money from advertising. We have a modified experience for viewers using ad blockers

Wikia is not accessible if you've made further modifications. Remove the custom ad blocker rule(s) and the page will load as expected.