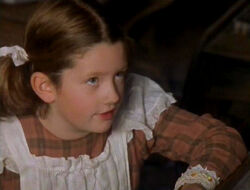 Jennie Strang was a Blair Water resident who attended school and church with Emily Starr and her friends. Lucy Maud Montgomery's description gives her a "short braid of hair" and "beady, twinkling black eyes." She teased Emily Starr rather cruelly on her first day at Blair Water School, but later displayed a friendly attitude towards her. She is once mentioned inviting Emily to her birthday party, but Emily was not allowed to go as a punishment for having laughed during family prayers. When Miss Brownell humiliated Emily in class by reading her poetry aloud and making fun of it, Jennie was very angry. Jennie Strang tended to have a judgmental temperament and was fond of gossip.
Adaptation
Edit
Jennie Strang was portrayed by Sheila McCarthy's daughter MacKenzie Donaldson in the Emily of New Moon television series, although her physical appearance doesn't quite match the description. The character is also friends with Rhoda Stuart in this adaptation, while Montgomery's Jennie Strang calls Rhoda "deceitful" and nothing indicates a close friendship between them. Jennie Strang remains hostile to Emily and her friends all through this series.
Ad blocker interference detected!
Wikia is a free-to-use site that makes money from advertising. We have a modified experience for viewers using ad blockers

Wikia is not accessible if you've made further modifications. Remove the custom ad blocker rule(s) and the page will load as expected.