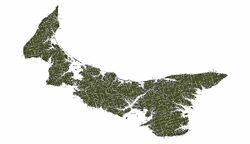 Prince Edward Island
is a province situated on the east coast of
Canada
. It is the smallest province in the country at 5660 kilometres square. 
Charlottetown
is the province's capital and the largest city on the island. Surrounded by water, Prince Edward Island's economy is dominated by fishery alongside agriculture and tourism.
Prince Edward Island is the birthplace of author Lucy Maud Montgomery and the land where her stories are set.
Ad blocker interference detected!
Wikia is a free-to-use site that makes money from advertising. We have a modified experience for viewers using ad blockers

Wikia is not accessible if you've made further modifications. Remove the custom ad blocker rule(s) and the page will load as expected.